Creation of crucial advanced physiotherapist grade in hospitals will dramatically reduce patient waiting lists
ISCP launch competency framework for advance practice and calls for physiotherapists to be allowed refer for X-ray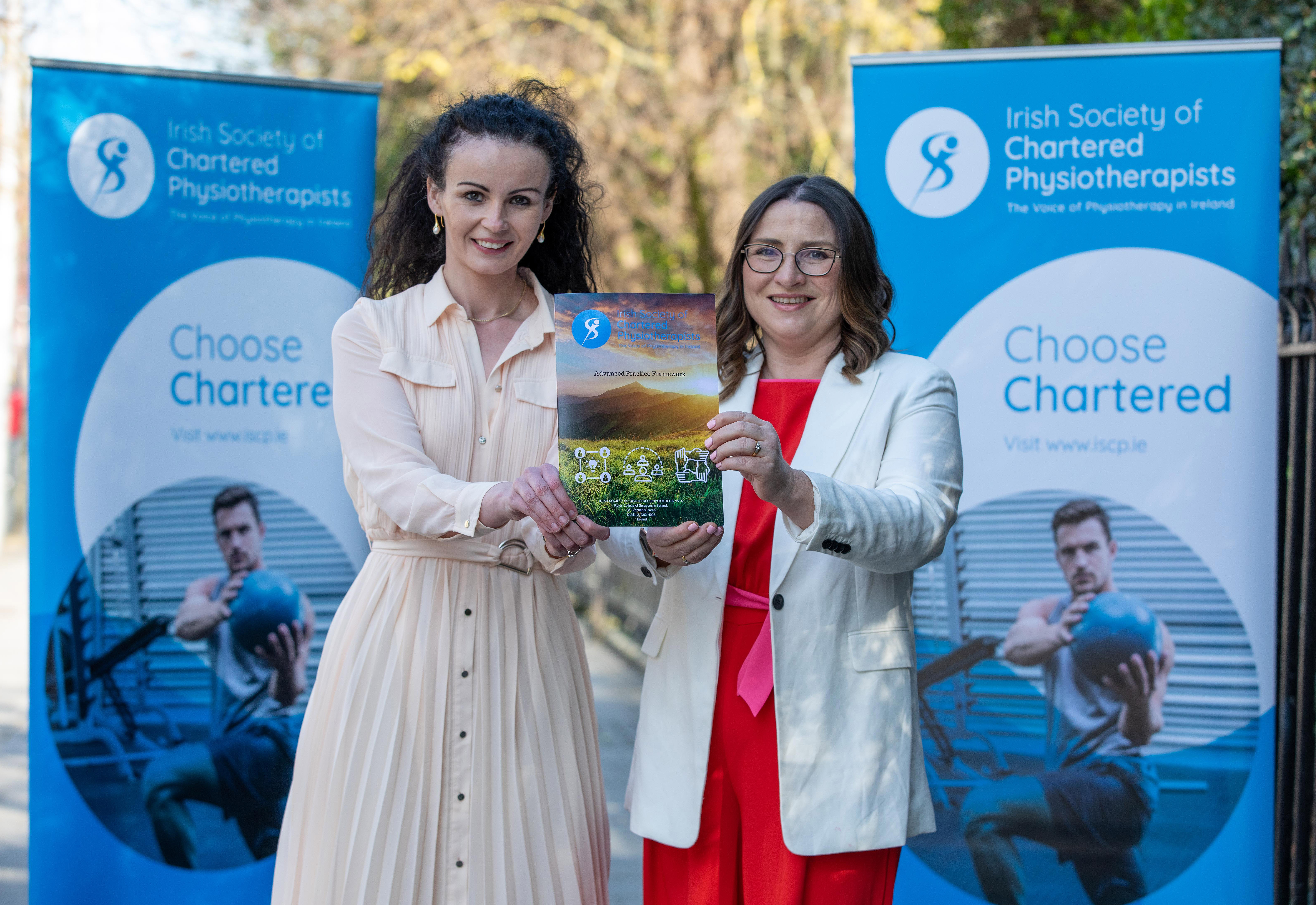 Pictured L-R: Rachel Maguire, Head of Professional Development & Dr. Marie Ó Mír, Advanced Practice Officer
The Irish Society of Physiotherapists (ISCP) today launched a Competency Framework for Advanced Practice Physiotherapists and calls on Government to amend the legislation to allow physiotherapists to refer for X-ray and create the Advanced Practice Physiotherapy (APP) grade, both of which will achieve significant cost savings to the health service. 
Speaking at the launch, Dr. Marie Ó Mír, ISCP Advanced Practice Officer said "For over two decades physiotherapists with extensive post graduate experience and qualifications have been working in roles with advanced scope, but lack of a standardised approach has led to much variation in roles. This framework was developed to support the delivery of safe and effective expert services to the public and to demonstrate the ISCP's commitment to working with the Department of Health and HSE in developing policy for the implementation of the advanced practice grade."
The ISCP presented a comprehensive report to the Minister for Health, Stephen Donnelly, the Department of Health (DoH) and the Health Service Executive (HSE) in March 2021, which demonstrates the massive savings physiotherapists are consistently delivering for the Health Service Executive. The Department and HSE are following up on this piece of work by developing a competency framework for this advanced grade which will safeguard the public while ensuring the highest levels of innovative care.
As a direct result of activity of physiotherapists with advanced scope nationally:
More than 160,000 new patients have been removed from orthopaedic and rheumatology waiting lists nationally by physiotherapists since 2012

Waiting lists for Rheumatology appointments are 130% shorter

€104,040 was saved at one hospital site over a 9 month period in respiratory medicine, with an average reduction in length of hosptial stay of 2 nights compered to previous medical care

 €24.50 for each APP triage appointment is saved over consultant appointments.

70% reduction in wait time in an Emergency Department
The ISCP welcomes the resourcing the HSE has put in place regarding physiotherapists, particularly its commitment to the National Musculoskeletal (MSK) Triage Initiative and the End-to-End Chronic Obstructive Pulmonary Disease Model of Care, but these posts are hampered in their effectiveness by not utilising the full skills of physiotherapists.
Ruaidhri O'Connor, CEO of the ISCP, stated that "Allowing physiotherapists to refer for X-rays will eliminate the current loss of €108,000 annually in lost time while 30 MSK APPs wait for junior doctors to order Xrays, this will increase to €234,000 annually after 2022. It will also create 650 new patient slots per month in the National MSK Triage Initiative by 2022." 
Outpatient Department waiting lists continue to grow exponentially and are worse than ever after the COVID-19 Pandemic. The answer to managing waiting lists lies not just in manpower resourcing but also in fully utilising the skills of current staff and delivering a multiprofessional workforce. This in turn will REDUCE:
the need for medical professionals to make referrals for investigations, thereby improving patient flow

the need for multiple patient contacts along the pathway, thereby increasing timeliness and consistency in the management of certain conditions

inappropriate demands on medical professionals and therefore improving access to medical care for those who need it,

costs across the pathway whereby patients are seen by the right clinician at the right time
The DoH and HSE have stated that they are supportive of Advanced Practice for Health and Social Care Professionals, and that it aligns with health reforms envisaged under Sláintecare. The ISCP is demonstrating its commitment to collaborating with the HSE and DoH by developing this Advanced Practice Framework which will inform policy.
Ends
Supporting Statements:
COPD Support Ireland
"COPD Support Ireland fully support the ISCP proposal to amend relevant legislation and introduce the grade of Advanced Practice Physiotherapist in Ireland. Physiotherapists are key in the optimal acute and chronic management of patients with COPD and self-management for patients with COPD.  They have the relevant clinical expertise and skillset to perform additional advanced practice clinical tasks in this cohort that would lead to an enhanced patient experience as well as improving efficiency and efficacy in managing this chronic disease. COPD Support Ireland believe that the introduction of an Advanced Practice Physiotherapist grade would complement the invaluable Advanced Nurse Practice programme currently underway, further enhancing clinical care for those living with COPD in Ireland and reducing the unnecessary additional burden being placed on medical teams in referring for radiological investigations that are the standard of care in this patient cohort. Introducing an Advanced Practice Physiotherapist grade would add significant value to the Multidisciplinary team management of the COPD population in Ireland and deliver a better experience for patients."
Joan Johnston General Manager, COPD Support Ireland
MS Ireland
"As the Physiotherapy/Exercise Coordinator for MS Ireland and as a physiotherapist specialising in neurology, I fully support the ISCP campaign for Advanced Practice Physiotherapy recognition and legislation. For people living with complex and progressive neurological conditions, management by a physiotherapist working at a higher level has the potential to minimise reliance on stretched acute care services through effective and evidence based interventions both for rehabilitation, self-management and prevention of deterioration. The advanced clinical reasoning by Advanced Practice Physiotherapists can be used in triaging care in case of deterioration or falls, providing differential diagnoses when pain presents, and administering injections for management of high tone where appropriate. For people with neurological conditions access to Advance Practice can further ensure the right care is received and that risk is managed in the unpredictable journey that these patients have."
Susan Coote, MS Ireland
Contact
For further information or comment please contact: